[Page title in bold] was a character in link to book origin/series origin.
Description
Here, you will explain a little about the article object/character/location/event.
(Try to include an image)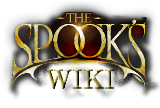 History and heritage
(for characters, objects and locations)
Prelude
(for events) - what happened before the event took place?
Trivia
(for all articles) - a little more information, that someone would not usually know about the subject page.
Gallery
(for all articles)
Community content is available under
CC-BY-SA
unless otherwise noted.